Horticultural and agronomic services since 1984.
Agri-Horticultural Consulting specializes in organic and sustainable solutions to large- or small-scale farming operations, revegetation and erosion control projects, and landscapes.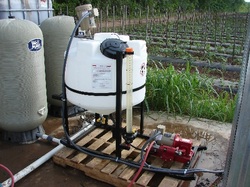 We use a wide range of analytical services and 30 years of experience to provide credible recommendations for soil fertility, production systems, and ecological land management.

The goal of Agri-Horticultural Consulting is to help growers and landcape managers improve the productivity, health, and nutrition of soils, plants, and food crops.

Synergy (noun, plural = synergies)
1. The interaction of two or more agents or forces so that their combined effect is greater than the sum of their individual effects.
2. A consulting firm that links above-ground plant management and the below-ground soil edaphon -- soil minerals, soil biology, and soil physics -- to create a synergistic effect for farm and landscapes clients.


---